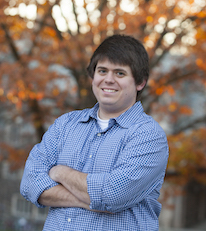 For our annual Engineering Week's Lecture, Dr. Chris Brinton is coming to campus to give his talk, "The Power of Networks: What Facebook, Cell Phones, and Online Courses Have in Common". After graduating from TCNJ, Brinton received his PhD in Electrical Engineering from Princeton University in May of 2016. While a graduate student there, he founded Zoomi Inc, a company which he describes as a "learning technology company that empowers client course offerings with predictive analytics and individualized content delivery."
In his new book, The Power of Networks: Six Principles That Connect Our Lives, Dr. Brinton and his associate Mung Chiang delve into the intricacies of modern communication. Despite being a force integral to most people's lives, many do not understand what composes networks, their role in society at large, and their function in everyday interaction. Dr. Brinton's book lays out complex ideas in a clear and accessible way and focuses on the human component of communication and how technology connects us all in this modern age.
For more information on his book, please click here.
This event is open to all students and faculty.