This year's Trenton Computer Festival (TCF) was a great success. TCNJ is a proud sponsor of this event and was happy that attendance to the event and the size of our exhibitor area was at its highest! Below talks about some of the amazing talks and events that occurred throughout the event.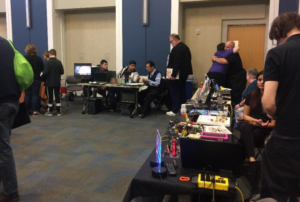 What made the 44th TCF so special was the quality and variety of the talks. The theme was Cyber Security and we were able to attract some of the top speakers in the country. We had a full day forum on cyber security. Our Keynote speaker was Tony Sager, Chief Evangelist of the Center for Internet Security. He was truly an outstanding speaker with many stories from his more than 30 years with the National Security Administration (NSA). Other Cyber Crime speakers included Michael Geraghty, Director of New Jersey's own State Security Cyber Team; Rebecca Mercuri, a nationally known expert on voting and digital security; and TCF's own David Soll on the Security of Windows 10.

Prof. Barry Burd introduced Quantum Computing, Lou Judice presented a WordPress Bootcamp, Kip Rosser talked on Cybercrime and Theremin Zen – he later gave a Theremin concert. There was a Hands-on Arduino Workshop for Beginners given by TCNJ alumnus Katalin Frolio; Dr. Seung-yun Kim organized an All Day Robotics Pavilion; and a class and a hands-on session on how to solder. For the first time Mystabar, a new adventure game that could be played by anyone attending TCF using a smartphone, tablet or laptop was introduced. TCF's long running one day hands-on Object-Oriented Programming Tutorial (OOP University) returned with new material, including talks on Python and Java. There were special tours of TCNJ's Sarnoff Museum of Technology.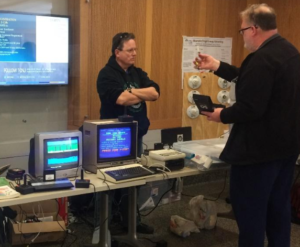 The Get an Amateur Radio License in a Day – Ham Cram & Testing class resulted in 18 new licensed amateurs. The Vintage Computer Exhibit (by Vintage Computer Federation – VCF) was a big attraction, as were Quadcopter Demonstrations, and TCNJ student poster presentations on their senior projects.
TCF is sponsored by the TCNJ School of Engineering's Electrical/Computer Engineering Dept., and supported by the IEEE and ACM professional societies, and the ACGJ and NYACC non-profit computer organizations.