Electrical Engineering graduate Christopher Tenev has developed a passion for amateur radio and says it helped change his life. He was first introduced to ham radio by his elementary school computer teacher, but became fully invested in it right before his senior year at TCNJ after being exposed to more communications theory during his engineering coursework. He even received his ham radio license recently.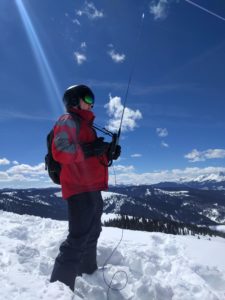 After working in the music recording industry for a few years, Chris decided to go back to school and pursue undergraduate coursework to further explore electronics and improve his career in recording. However, after his experiences at TCNJ, he developed a newfound interest in analog work rather than digital and decided to pursue a career in radio-frequency (RF) engineering.
He says ham radio is a "hands-on exploration of classes like communications and electronics," and it allows him to hone the skills he learned through courses at TCNJ. He is involved in local ham radio groups that provide aid in emergency situations such as 911 calls. He has participated in Slow Scan Television (SSTV) with the International Space Station (ISS), and digital and morse code for moon bounces with Dr. Allen Katz, Professor of Electrical and Computer Engineering.
Chris took part in the Amateur Radio on the International Space Station (ARISS) SSTV image transmission event to commemorate 58 years of space flight. The space station sent out audio over SSTV and participants could record the audio transmission to later convert the audio into images from the space station. This was the first time he had attempted SSTV and was given an award for his participation.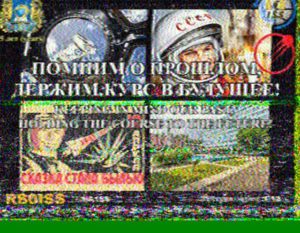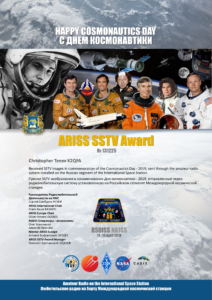 Chris also worked with Dr. Katz to do moon bounce or Earth-Moon-Earth propagation. Moon bounce is a special type of amateur radio that helps to initiate very long-distance communication. Parties send their phone or morse code signal at the moon and use it as a passive reflector to send a signal to a far away location for a person to receive.
TCNJ's School of Engineering and Dr. Katz are proud to have played a role in helping Chris on his journey toward developing this unique passion and enriching his educational experience.