Recently, Patrick Hanrahan '15 wrote a few of his former professors from the Electrical and Computer Engineering Department to share a job opening on his team at Illumina, Inc., a biotech company in San Diego.  We asked Patrick to share what he has been up to since graduating from TCNJ.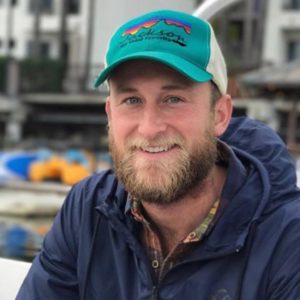 "Upon graduation from TCNJ in the summer of 2015 with my Bachelor's in Electrical Engineering, I had 6 full-time entry level engineering job offers in hand.  Although most offers were in New Jersey, I opted to accept a position as an Avionics Engineer with NAVAIR (Naval Air Systems Command) on North Island just off of San Diego.  I spent about 15 months at NAVAIR doing in-service engineering tasks on E-2 Hawkeye Naval Aircraft – this was a cool job because I often got to go on aircraft, but ultimately I wanted to have more of a role in development.  I transferred within the Department of the Navy to SPAWAR (Space and Naval Warfare Systems Command) just across the San Diego Bay from North Island where I worked for 2 years leading RF Signals Intelligence research and development projects for sea-based autonomous platforms.  While working for SPAWAR I attended graduate school part-time and received my Master's in Wireless Embedded Systems from the University of California, San Diego.  I then landed a job working on the Embedded Systems team at Illumina Inc, specializing in hardware and firmware layer automation for Opto-Mechanical Gene Sequencer Instrument development.  I live 5 blocks from the beach and enjoy sailing, surfing, and hiking in my free-time. "
– Patrick Hanrahan '15
Congratulations on all you have accomplished so far, Patrick!
*TCNJ Engineering Alumni:  Let us know what you've been up to!  Send an email to soengweb@tcnj.edu.