Associate Professor of the Department of Electrical & Computer Engineering Dr. Larry Pearlstein and Assistant Professor of the Department of Mechanical Engineering Dr. Mohammed Alabsi  joined forces this summer for the Mentored Undergraduate Summer Experience. Dr. Alabsi believes we are living through the fourth industrial revolution era as machines continue to become smarter and more self-aware. He notes that future projections suggest that machines will have the ability to predict their useful life and lifespan independently, "Of course, that would not be possible without proper utilization of sensor data and artificial intelligence. Hence, my research supports the efforts towards building prediction models that predict wide ranges of machinery health and operating conditions."
The big picture technology of this lab is artificial intelligence and machine learning. The specific algorithm explored is deep convolutional neural networks. This is a fairly new technique that is applicable towards all kinds of problems where we can use artificial intelligence – from speech recognition to noise reduction to stock predictions. It's modeled on the way humans think and reason using higher level brain functionalities. This is a technique that both Dr. Pearlstein and Dr. Alabsi have explored independently before collaborating together. Dr. Pearlstein worked with deep convolutional neural networks applied towards image analysis while Dr. Alabsi used it to bridge the gap between signal analysis and mechanical engineering. 
For MUSE 2021 together, their lab uses these algorithms to identify interesting features in vibration signals in rolling machinery. Taking a look at the factories that make everything that we see today, so much of the machinery is based on rolling machinery (machines that spin). Common examples include engines in cars, airplanes and generators that are based on the same principle. This research can be used to evaluate machine health, pinpoint specific areas of interest where something may be going wrong in roller machinery and prevent unscheduled & potentially catastrophic mechanical failures. 
Advice from the professors to students thinking about pursuing research:
From Dr. Pearlstein: I welcome every student. When you come and work in my lab, there is no requirement. Come when you can with whatever time you can put in, this all primarily for your own benefit. You'll get out whatever you put into it. Even as a first year student, you can approach most of the faculty in the entire college because this is really what our entire college is based on, this idea that we want to involve our students in our research. If you're interested, come talk to the faculty with interests that match yours. Find out and come work. 
From Dr. Alabsi: Talk with your professors and show interest. There are usually research opportunities in your areas of interest. Second thing, don't get frustrated and lose interest if the research problem looks complicated at the beginning! This is fairly normal. Your professor will facilitate all challenges until you get up to speed.
– Anisa Lateef '22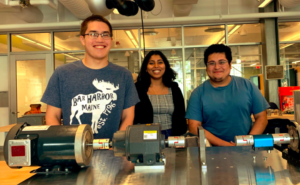 (Left to Right) Zachary Leong '22, Nithya Nalluri '23 & Michael Franco-Garcia '23 with their rolling machinery test bed in the Stem Building Machine Shop.
Zachary "Zach" Leong '22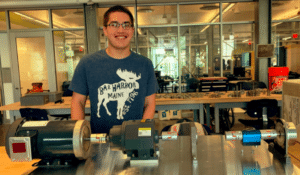 Meet Zach: He is a rising senior mechanical engineering student & this is his 1st year doing MUSE with Dr. Alabsi.
Zach's Project: As the mechanical engineering student in the lab, he is building a testbed with all the essential sensors. He constructs a tangible test rig that can be analyzed using vibration to be able to locate any faults in the roller bearing system.
Hometown: Phillipsburg, NJ
Hobbies: football fan (Go Packers!), chilling with his dogs, playing video games, cooking 
@ TCNJ: member of Tau Beta Pi (Engineering Honors Society), ASME (American Society of Mechanical Engineers) & PASTA Club (Professional Academic Society of Technical Advancement) 
Any advice for future students working in a lab?
If you're interested in research, go for it as soon as you can. I'm a senior but I feel like any class of student here (freshmen, sophomore… ) has the opportunity to get these research positions. All you have to do is ask your professor. Definitely get in early because you're able to form those relationships and network with people so that even after you graduate, you're able to call back on those people if you need help.
Being the only mechanical engineer in this lab really wasn't that big of a deal to be honest. We're all engineers and we all work together on problems, that's how it is in the real world. Especially with a research experience like mine, it's very valuable to be able to have that experience to work with people that don't necessarily know what you're working on and be able to communicate that information effectively.
What's a fun fact that you've learned while doing MUSE?
Professors are really easy to talk to. Don't be intimidated to talk to a professor because they'll be there to talk. If you're interested in their work, they'll reciprocate that enthusiasm back to you. I found that being in that enthusiastic environment makes it easier to go through the challenges that you're facing in research.
Michael Franco-Garcia '23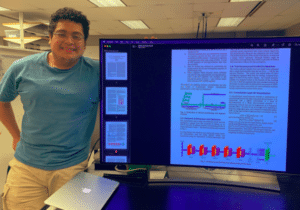 Meet Michael: He is a rising junior computer engineering student & this is his 1st year doing MUSE with Dr. Pearlstein.
Michael's Project: He contributes by working on classification models development with Nithya. Those prediction models will be programmed into an edge device that will carry out real-time fault identification. He utilizes neural networks for analysis in the lab. Michael approached Dr. Pearlstein as a first year student expressing his interest and dedication for research. Through all of his hard work, he recently co-authored a paper that he and Dr. Alabsi submitted. They are hoping to present it at a distinguished conference.
Hometown: North Bergen, NJ
Hobbies: watching any genre of movies (dramas are his favorite though), listening to all kinds of music (but Queen is his top band)
@ TCNJ: President & founder of the TCNJ chapter of SHPE (Society of Hispanic Professional Engineers), incoming Community Advisor for the first year student dorms and a part of the School of Engineering DE&I Committee  
Any advice for future students working in a lab?
Come in with a goal-oriented mindset for something you may have a passion for or want to seek. For me for example, I came into TCNJ knowing I was doing computer engineering but there's so many things you can do within computer engineering. I wanted to do more software, but what specifically? There's a whole range of topics but I knew I wanted to do something AI/machine learning related. Since I already came in with that mindset, I did what I had to do to come here and now work for the lab. 
I also feel like everyone always tells us that we have to work on something that we love to do. Because I saw that in people like Dr. Pearlstein, seeing that he likes to do what he likes to do, that kind of motivated and inspired me to do the same and stick around. I'm a huge benefactor when it comes to being inspired and then furthermore, inspiring others. 
What's a fun fact that you've learned while doing MUSE?
One of the things that happened around here was that during the first few weeks of MUSE, nobody really talked to each other. But later on as the weeks went by, we kind of got to know each other a little bit more and more. 
Know that you're not alone because there might be other people that feel the same way as you or are in the same situation as you. I think that's a problem that a lot of students have. They're not willing to reach out to other people then they feel isolated and alone. But we want to prevent that stigma, we want to prevent people from feeling like they're the only ones. There are people you can talk to to help you out and become friends with. I'm glad to say that I've become very fond of and have become friends with Zach, Nithya and my labmates. 
Nithya Nalluri '23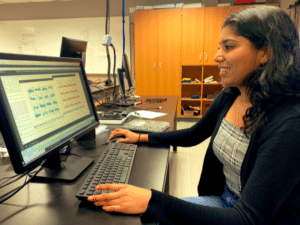 Meet Nithya: She is a rising junior computer engineering student & this is her 1st year doing MUSE with Dr. Pearlstein.
Nithya's Project: She helps by working on classification models development with Michael. Those prediction models will be programmed into an edge device that will carry out real-time fault identification. She analyzes the outputs and helps to visualize them to see where the faults are in the bearing. It's a look into the network to understand what is and isn't happening.
Hometown: Flemington, NJ
Hobbies: Traditional Indian style drawing with gel pens & charcoal, playing sitar, cooking & meal prepping (favorite MUSE lunch is yellow lemon rice mixed with yogurt)
@ TCNJ: President of Service Counsel (finding small acts of service to do in the Ewing area) & Outreach Chair for SWE (Society of Women Engineers)
Any advice for future students working in a lab?
Honestly just go for it. Do something that you're interested in. Even if you don't know what it is, just go up to any of the professors or students (even if you don't know who they are) and they'll be happy to explain stuff to you. You kind of have to face your fears. I get a lot of anxiety but I had to conquer all of these fears. Same thing to anyone trying to get into research: just try to be a part of lab groups and get out of your comfort zone a bit. 
What's a fun fact that you've learned while doing MUSE?
Similar to what Michael said, it took that long for us to bond but now we have lunch and hang out together outside of the lab.
If you are an engineering student and did something awesome you want us to know about, email us at: soengweb@tcnj.edu.