Congratulations to the following TCNJ Engineering students and their teams on making it to the 2022 Mayo Business Plan Competition Semi-Finals! Be sure to cheer them on before their next presentation on March 2nd which will determine who will continue to the finals. In the finals, the teams will have a chance to be awarded up to $30,000.
– Anisa Lateef '22
eLuminate
Team eLuminate is composed of three Computer Engineering seniors and one senior in Business (Chris Coniglio, Economics '22).  They aim to take their senior project a step beyond design and turn it into a product. The goal of eLuminate is to design and offer a unique and intuitive lighting system that is highly efficient and low cost for everybody. With many options for lighting being generic or limited, eLuminate plans to put creativity and freedom in the hands of its users. Being engineered as a compact and multi-purpose system, consumers can modify white and RGB light output to their desire, mount it however they like, and even use it on the go. The product, consisting of small 4×4 panels, can be interconnected into whatever shape or pattern users want. With these features and more, eLuminate hopes to bring affordable, enjoyable and high-end lighting systems to everybody.
MycoCool LLC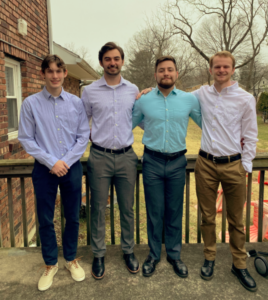 Left to Right: Brett Schuett (Marketing '22), Zachary LiVecchi (Management '22), Jonathon Borgognoni (BME '22) & Jacob Ringers (ECE '22)
MycoCool is the first carbon negative, renewable, and 100% biodegradable cooler. Their main goal is to provide a sustainable alternative to polystyrene coolers that effectively utilizes natural fungi technology to help reduce the output of polystyrene into the world and in turn reduce carbon emissions in the process. MycoCool has similar thermal and durability capabilities to that of other competing coolers. Once you no longer have use for one of our coolers, you can simply break it into pieces and throw it into your garden and watch as it breaks down and provides nutrients to the plant-life around it.
AlpineAid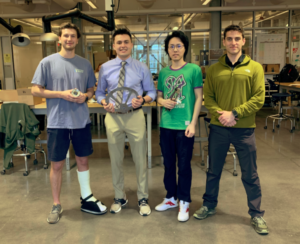 Left to Right: Jameson Dugan (ME '22), Daniel Kelly (ME '22), Haoyu Ji (ME '22) & Tim Albano (Engineering Science '23)
AlpineAid's mission is to advance the skills of skiers and snowboarders by providing realistic land training equipment capable of building and supporting muscle memory. Designed by senior mechanical engineering students Jameson Dugan, Haoyu Ji, and Daniel Kelly, who share a passion for snow sports, the team combined their technical engineering knowledge and mountain experience to deliver the next best thing to a ski slope itself. The product began as a senior capstone project, where its potential for retail success was realized. Junior engineering management major and avid skier Tim Albano was added to the team to develop the business and support this new product. With a working prototype in the final stages of assembly, the team is excited to share the product and business model in the next stage of competition and beyond as they grow this business and work towards obtaining a design patent.
Schredd
Shaeed Zaki (Marketing '24) & Sameer Zaki (ME'22)
As the climate crisis worsens and labor shortages continue to make lawn care less and less profitable, SCHREDD strives to provide solutions that alleviate the upfront cost of lawn care and climate change. By developing a scissor-like grass clipping mechanism, they aim to introduce a new way of increasing the efficiency and safety of existing products, and drive down the costs of lawn equipment. They hope the impact of this technology will accelerate the change to a clean, sustainable society. 
If you are an engineering student and did something awesome you want us to know about, email us at: soengweb@tcnj.edu.